Jewel tones and sparkly embellishments are everything my dreams are made of. This fact makes December a bit of a playground for me. The only problem is that I don't want to wait for holiday parties to enjoy the sparkly luxuries of the season, nor limit myself to them. There are ways to dress down your festive wardrobe a bit and utilize them throughout the season. These tips are also good to use for a daytime Christmas party or holiday brunch. Here are a few ideas to help you brainstorm.
1) Pair your fancy dress with a more casual boot/bootie
2) Belt it! Wear a skinny belt, or even pull a trick that I do often (as seen in this feature) and use a long necklace as a belt!
3) Mix it up with a skinny scarf. Today I used a vintage, lightweight silk scarf with a rose pattern for the simple fact that it was my mood. You make the rules! Don't overthink it or it will lose a more casual vibe.
4) Still wear bold lip colors in the daytime. It's December and you are more than allowed. Furthermore, life is a celebration, so make like Nike and just do it.
5) Utilize 'daytime' sequins. Oh, you didn't know there was such a thing? Have you seen the kind that are more matte or brushed metallic rather than shiny? Bingo.
6) Make sure that your earrings and your handbag are the same 'level' of awesome. Coordinating, not matching; rustic or glam. The party is in the details.
This week's unexpectedly warm and breezy 70 degree December weather has been a downright dream to me. I am grateful, even though I'm sure global warming or something else equally awful is to blame. I hope all those in the midwest who were touched by these unexpected air currents were able to enjoy them! Shopping details at the bottom!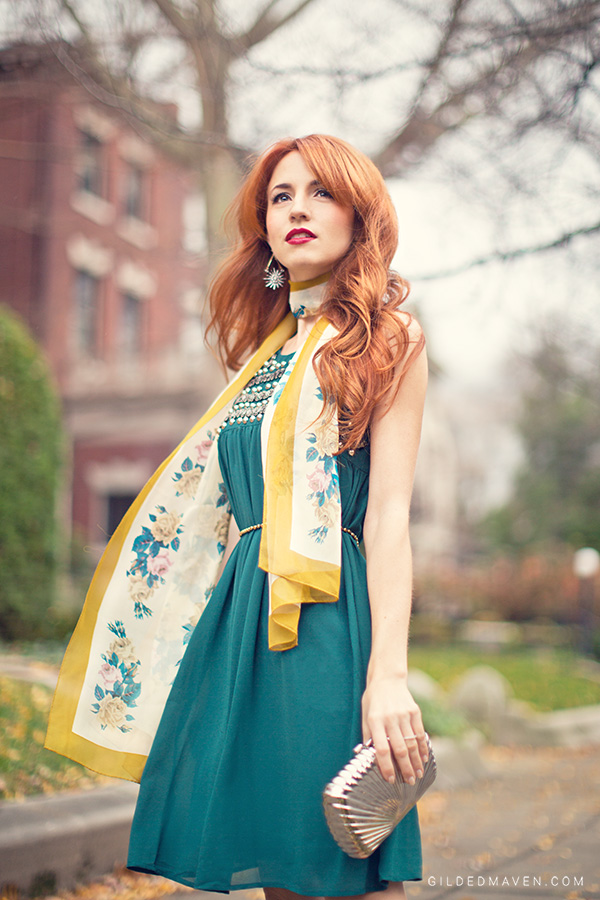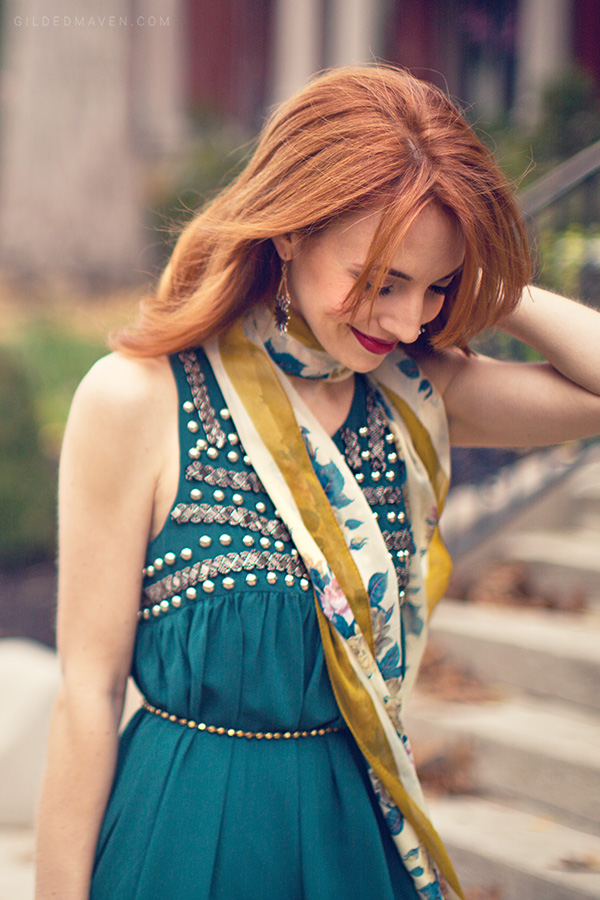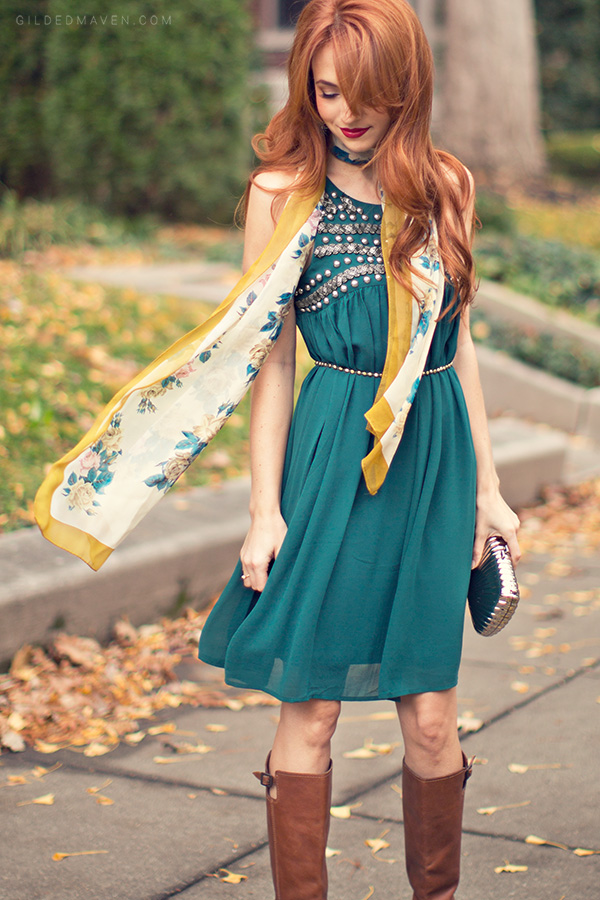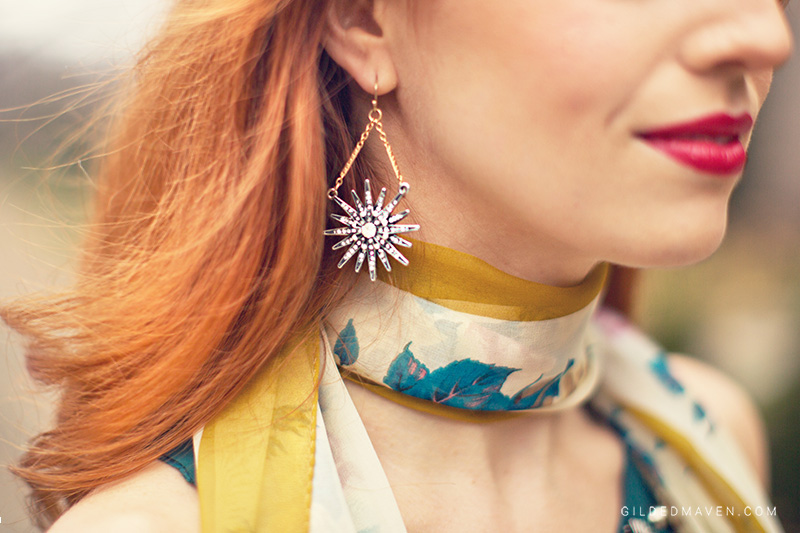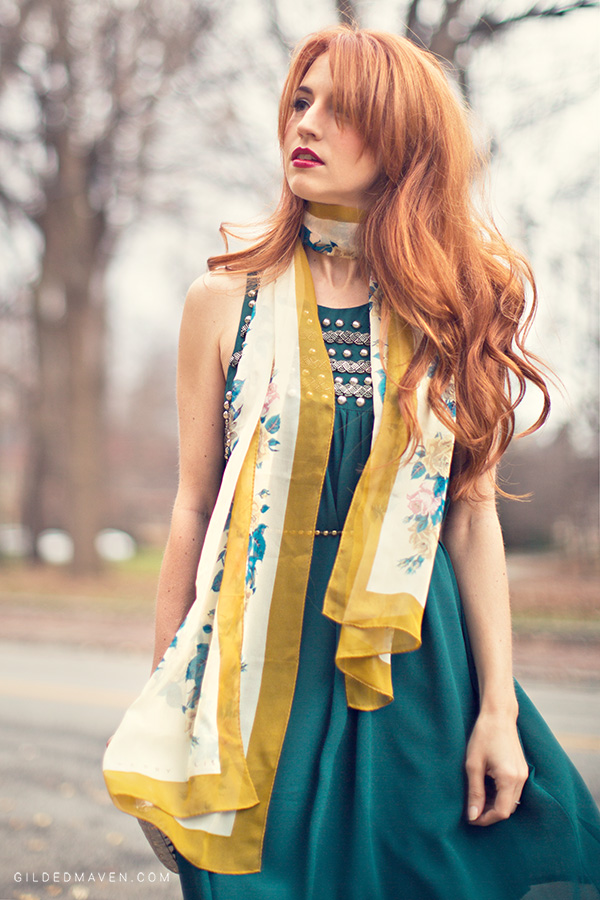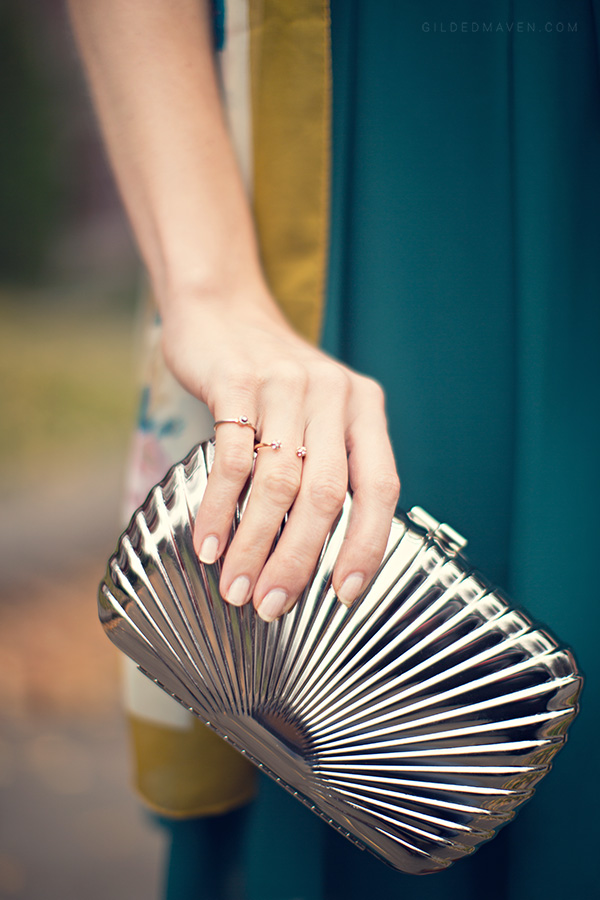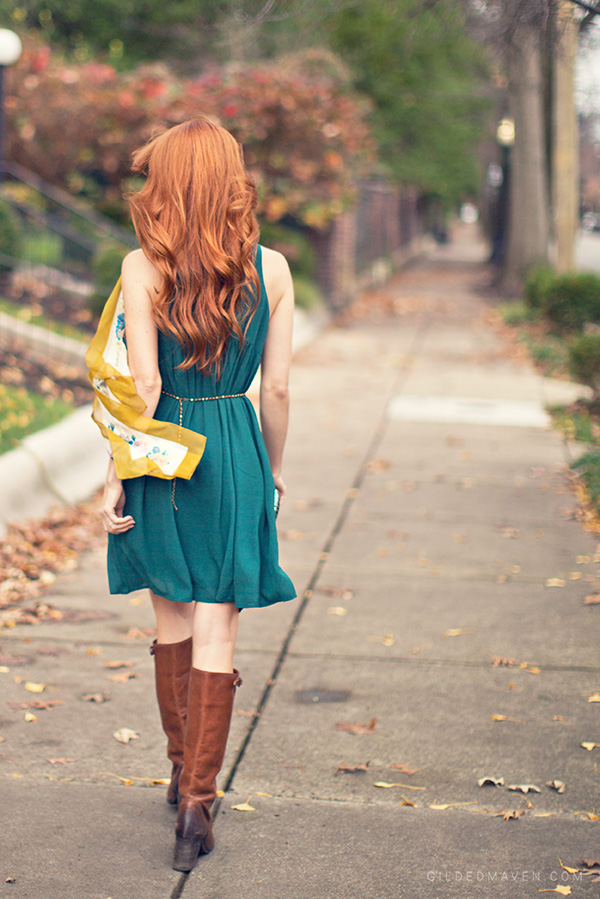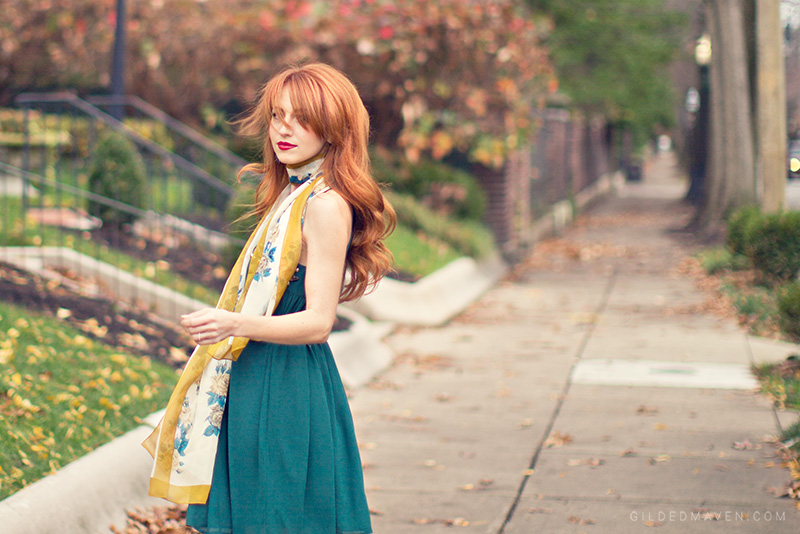 Belle of the Ball Dark Green Dress | L. Mae Boutique (Only $58!)
Stardust Earrings | The Gilded Maven Collection
Silver Fan Deco Clutch | Asos
Frye Cece Seam Tall Cognac Boot (similar, but better!)
My silk floral scarf is vintage Perry Ellis, so just head to your nearest vintage/antique store for a good selection. However, here are some fabulous options that would also look amazing!
Kenzo Silk Scarf | Alexander McQueen Floral decay Skull Scarf | Roberto Cavalli Floral Print Scarf
If you aren't yet a Gilded Maven Member, now is a great time to sign up! I have HUGE giveaway coming up soon and the winner will be drawn from my subscribers! Just click the link at the top, sign up and stay tuned!
Cheers!