There is a certain practical trend forming amongst both socialites and starlets alike. Every girl can acknowledge the practicality of the LBD. (You know, the little black dress.) But before your next birthday or dinner party comes around and open your closet, let out a deep sigh and reach for good 'ol faithful, why not add a bit of vibrance to your favorite silhouette? Enter: The Little Navy Dress.
While in south Florida this week I stepped into Big Drop NYC  and it is now one of my absolute FAVORITE boutiques in all of Miami. Along with carrying many of my faves (For Love & Lemons, Jetset, Haute Hippie) they have a brand exclusive to their store called Jennifer Hope, and one their popular designs – a backless, flirty little number with a plunging neckline – comes in navy. What could be more perfect?! Perhaps wearing it while sipping a martini on South Beach.
Purchase your own Jennifer Hope Serena Bare Back Sweetheart Dress HERE!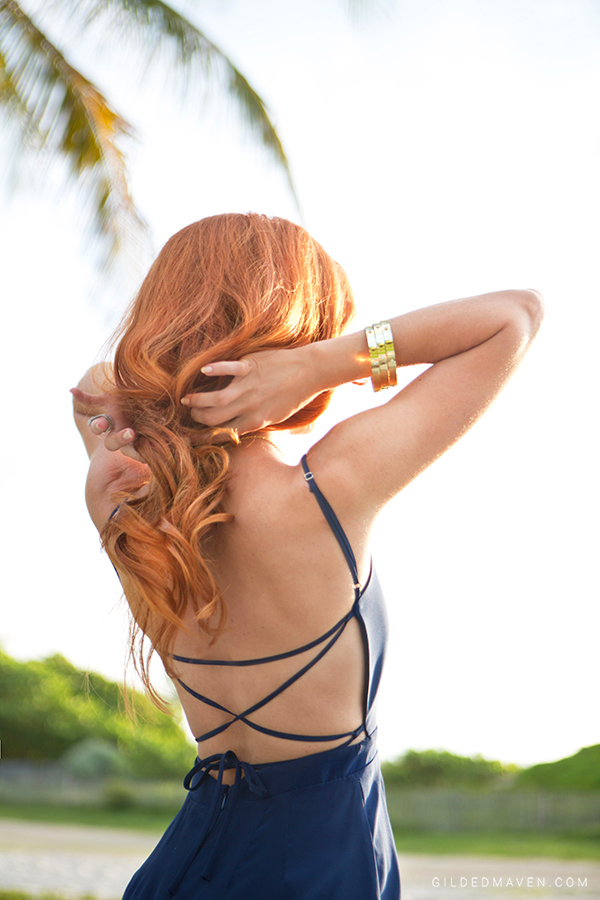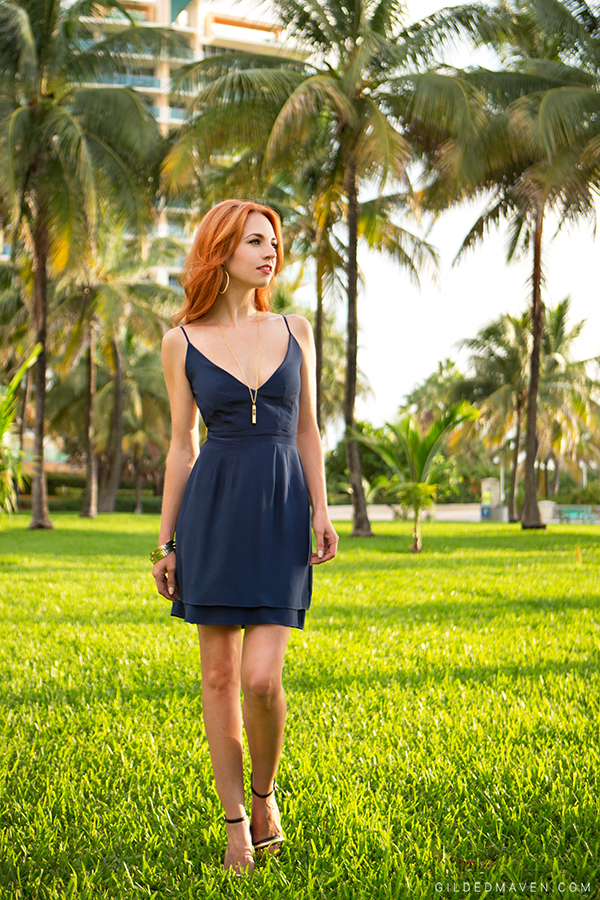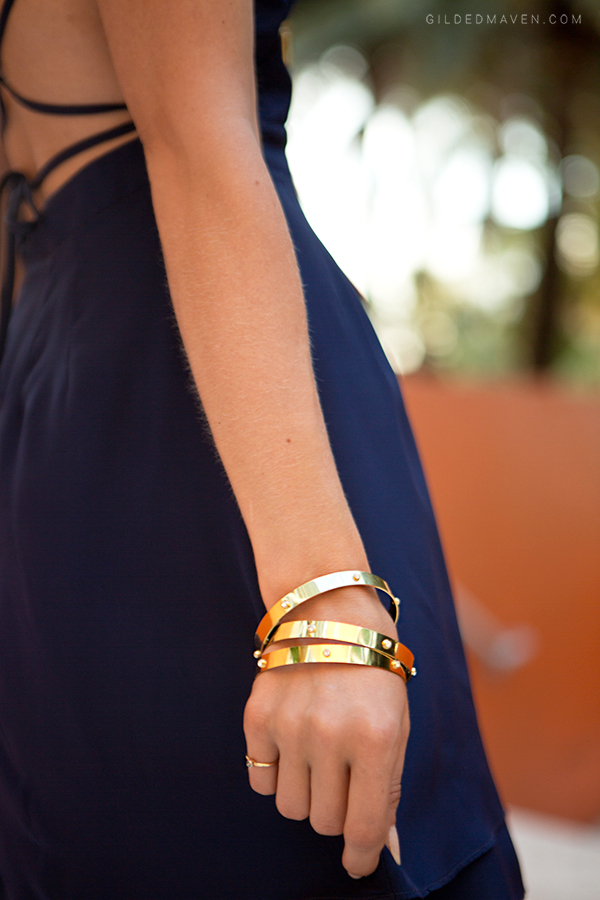 Get the look of these fab gold bangles with the Astor Bangle from Michael Kors HERE!
The Gold Hourglass Necklace pictured with be for sale soon in the Gilded Maven Shop!
If you're like me, you may have worn uniforms in high school and learned to loathe the color. It's sad to think that I have been ignoring it's potential for so many years! Paired with shiny gold accessories and even bold pops of color, it is such a flattering shade on every single skin tone. Not to mention it flows flawlessly into the fall and winter seasons when paired with a chic blazer and pumps.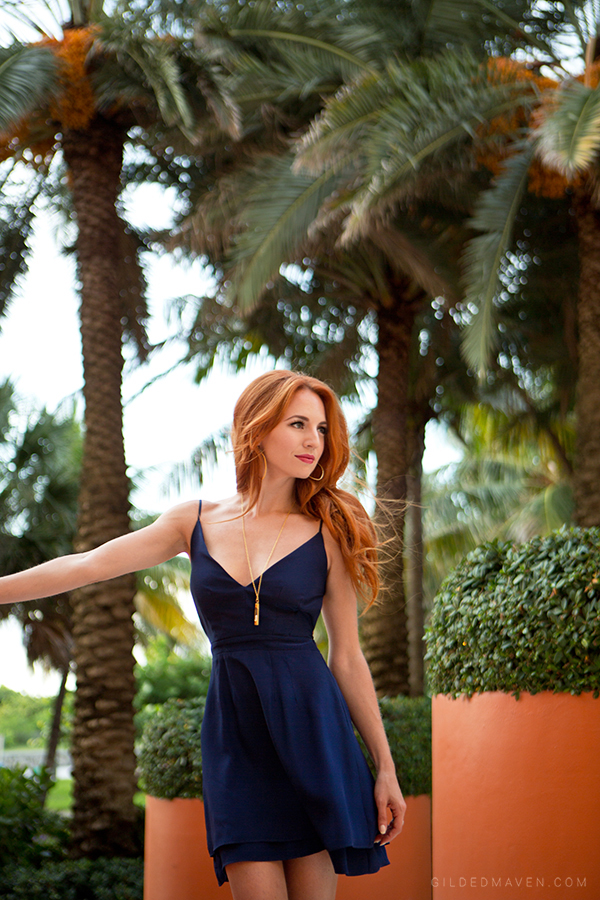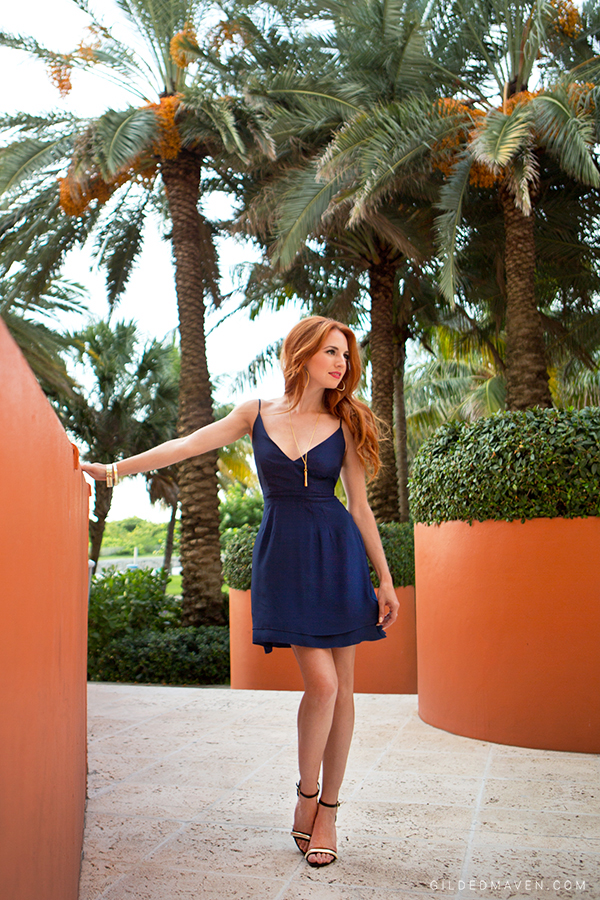 Now go out and liven up your wardrobe a bit! Are there any other fantastic little navy dresses you've found out there? Or other colors that seem under-appreciated in the fashion world? Comment and tell me about it!
Cheers!